WELCOME TO
DFW paint & Drywall Pro
DFW Paint and Drywall Pro in McKinney, TX gives quality service with respect to painting and drywall within an estimated timeline.
WELCOME TO
DFW PAINT & DRYWALL PRO
DFW Paint and Drywall Pro is a reputed drywall and painting company that is based out in McKinney, Texas. We are specialized in a lot of work such as water damage repair, remodeling, updating wall texture, remodeling, new construction etc. We provide clean, prompt and courteous services in the residential applications.
We are into business for more than 25 years and we thrive on providing the best customer satisfaction as well as workmanship for our residential projects. Moreover, we are insured, licensed and bonded to operate in the state of Texas. We get the work done on time as well as according to the budget of the client and thus provide the much-needed satisfaction. We undertake any kind of work irrespective too big or small.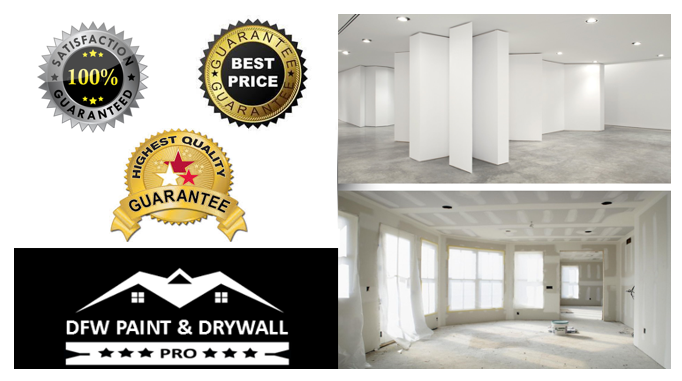 Drywall Installation
Drywall, in general, is used for creating wall surfaces as well as a ceiling that is used for construction and renovations in residential buildings. We are specialized in drywall installation in a correct way.

Drywall Repair
We are an expert in drywall repair which consists of several aspects such as drywall cracks, drywall holes etc. Our services are quite affordable and perhaps give you the best value for money for the services undertaken.
Interior Painting
Make your home look adorable with the help of clean and fresh coat of paint. We have a team of experts to handle your interior painting project who have a great hand on experience to handle any kind of projects.
Popcorn ceiling Removal
Popcorn ceiling removal is a very difficult process to execute. We havea team of experts who can remove any textured based ceiling treatment. This would, in turn, give your home a sleek and modern look.
Wallpaper removal
Wallpapers are available in a lot of modern styles which certainly gives a fresh and unique look to your property. Hence, you can get in touch with us as the wallpaper removal process is quite difficult to execute.
stucco repair
With regular repair and maintenance, the stucco at your home can last for a long time. If you feel like moisture has damaged the stucco leading to deteriorate or crack, then it is recommended that you get in touch with us.